Invisalign For Teens
A Practical, Comfortable, and
Discreet Orthodontic Solution
While orthodontists estimate that around 45% of children need braces to correct functional issues in the mouth, it's estimated that up to 75% could benefit from tooth straightening.
By straightening the teeth and improving the shape of the face, receiving orthodontic treatment in adolescence can dramatically improve the quality of life in adulthood.
But the thought of having clunky and uncomfortable metal braces installed isn't very appealing, and so many teens are now choosing Invisalign for their orthodontic treatment.
Invisalign for teens offers a discreet alternative to conventional braces while delivering the same results. The aligners are removable, easy to clean, and virtually invisible, making them ideal for teenagers who want to achieve straight teeth without sacrificing their smile.
How Does Invisalign For Teens Work?
The Invisalign system involves a series of clear aligner trays that are virtually invisible when worn. The trays must be worn for 22 hours a day, and should only be removed to eat, brush your teeth, or drink fluids other than water.
The aligners are bespoke to the patient's smile and work in the same way as traditional metal braces, gradually shifting the teeth into alignment over time.
Invisalign patients will usually wear each clear aligner tray for 2-3 weeks before graduating onto the next one. The majority of the treatment is undergone at home, so teen Invisalign patients don't have to book a dentist appointment every other week.
Is Invisalign For Teens Different From Adult Invisalign Treatment?
Invisalign for teens works in the same way as adult Invisalign treatment, but with a few additional features, including:
Invisalign teen braces feature blue wear indicators, which fade to clear when it is time to switch to the next tray.

Six replacement aligners are included free with every Invisalign for teens set – this is to account for aligners that are accidentally lost or damaged.

Teen Invisalign aligners are designed to guide molars, premolars, and canines into a straighter position as they come through.
Invisalign For Teens: What Does The Process Involve?
What Are The Benefits of Invisalign For Teens?
Discreet Appearance
The discreet appearance of Invisalign for teens makes them a particularly attractive orthodontic option for adolescents. Teens are able to transform their smile without sacrificing their appearance in the short-term.
Comfort
Unlike traditional braces, Invisalign trays aren't made of metal wires or brackets that can catch on the mouth or tongue. This makes them considerably more comfortable and appealing for teens whose mouths are still developing.
Better Brushing and Flossing
One of the biggest disadvantages of traditional metal braces is that they make it difficult to brush and floss effectively. Invisalign trays are completely removable, so the patient can brush and floss as usual when undergoing treatment.
Fewer Dental Appointments
With no metal parts to be tightened, teens can undergo their Invisalign treatment mainly at home, with very few dental appointments required. This makes it perfect for teenagers with hectic schedules (or dentist anxiety!).
Eat What You Like
Traditional braces often require the wearer to avoid crunchy or sticky foods, such as popcorn, chips and chewing gum. As Invisalign trays are removable, the patient can enjoy the foods they love without worrying about damaging or getting food stuck in the aligners.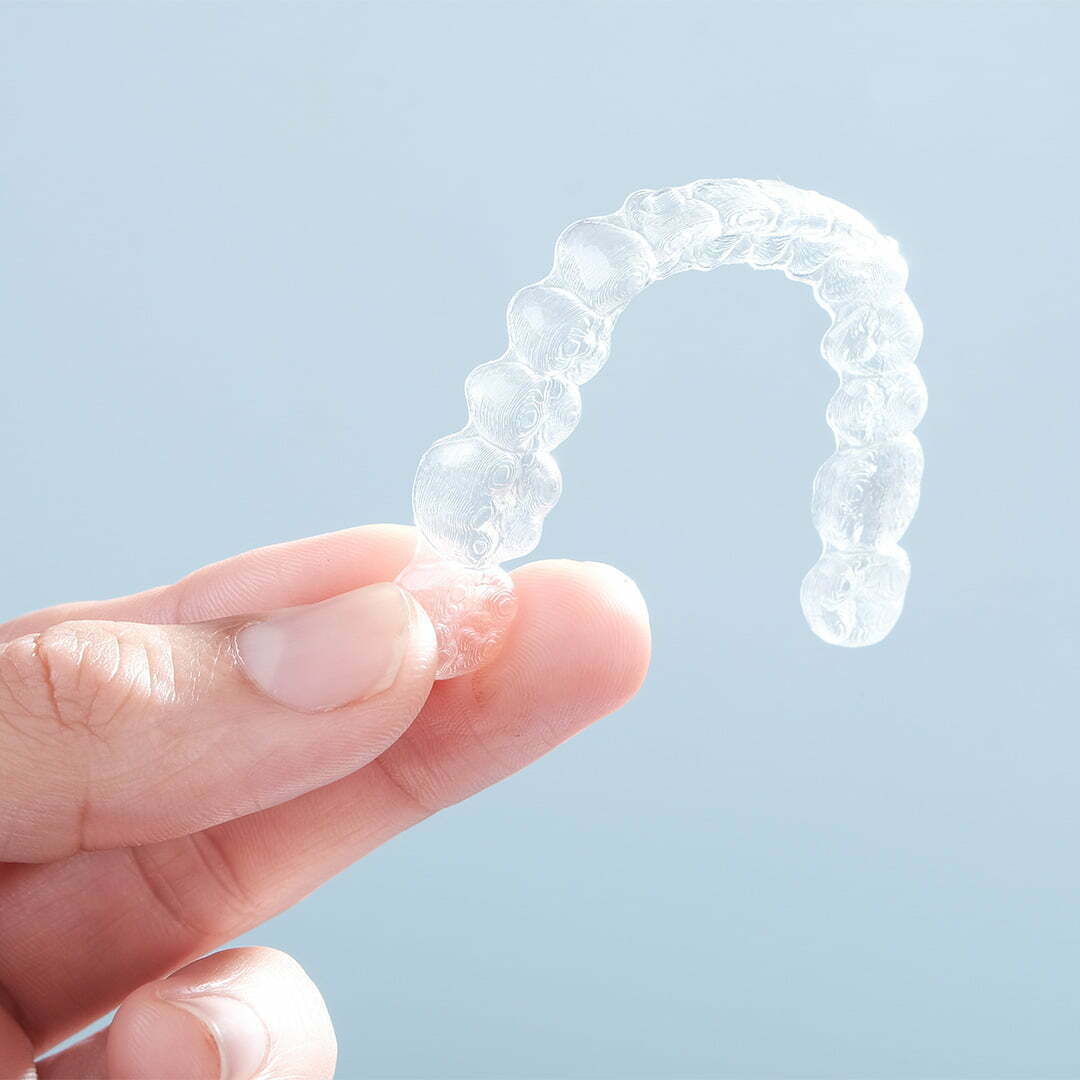 Which Conditions Can Invisalign For Teens Treat?
In general, Invisalign for teens can treat all non-complex orthodontic issues such as:
Crooked or crowded teeth

Gapped teeth (diastema)

Underbite

Overbite

Open bite

Deep bite

Crossbite
Think You Or Your Teenager Could Benefit From Invisalign For Teens?
Invisalign can do wonders for a person's oral and physical health, as well as their confidence. If you think you or your teenager could benefit from Invisalign for teens, you can book a no-obligation consutlation with one of our Invisalign dentists. We'll advise you on the estimated cost and timeframe of the treatment, and discuss the funding options available to you.
Get started
Schedule a free consult or a free virtual consult.